Richard Krech
Richard Krech was born in 1946. He became involved in civil rights activities in 1963 and started writing soon thereafter. His first poetry readings were at the Bowery Poet's Co-Op in 1965, and his first book was published in 1967. He published a poetry magazine and organized a series of open poetry readings at bookstore on Telegraph Avenue in Berkeley from 1966 to 1969. He stopped writing poetry in the mid-70's and in 1976 went to law school and has been practicing criminal defense in Oakland, California since 1980. His practice includes everything from murder to shoplifting as well as pro bono representation of anti-war demonstrators and others similarly situated. After a 25+ year hiatus he began writing poetry again early this century.


Published in
Has had poems published in the Journal for the Protection of All Beings (City Lights); Ole; Ecstatic Peace Poetry Journal; Van Gogh's Ear (Paris); and on line Big Bridge and Milk, among other periodicals.

GPP Broadsides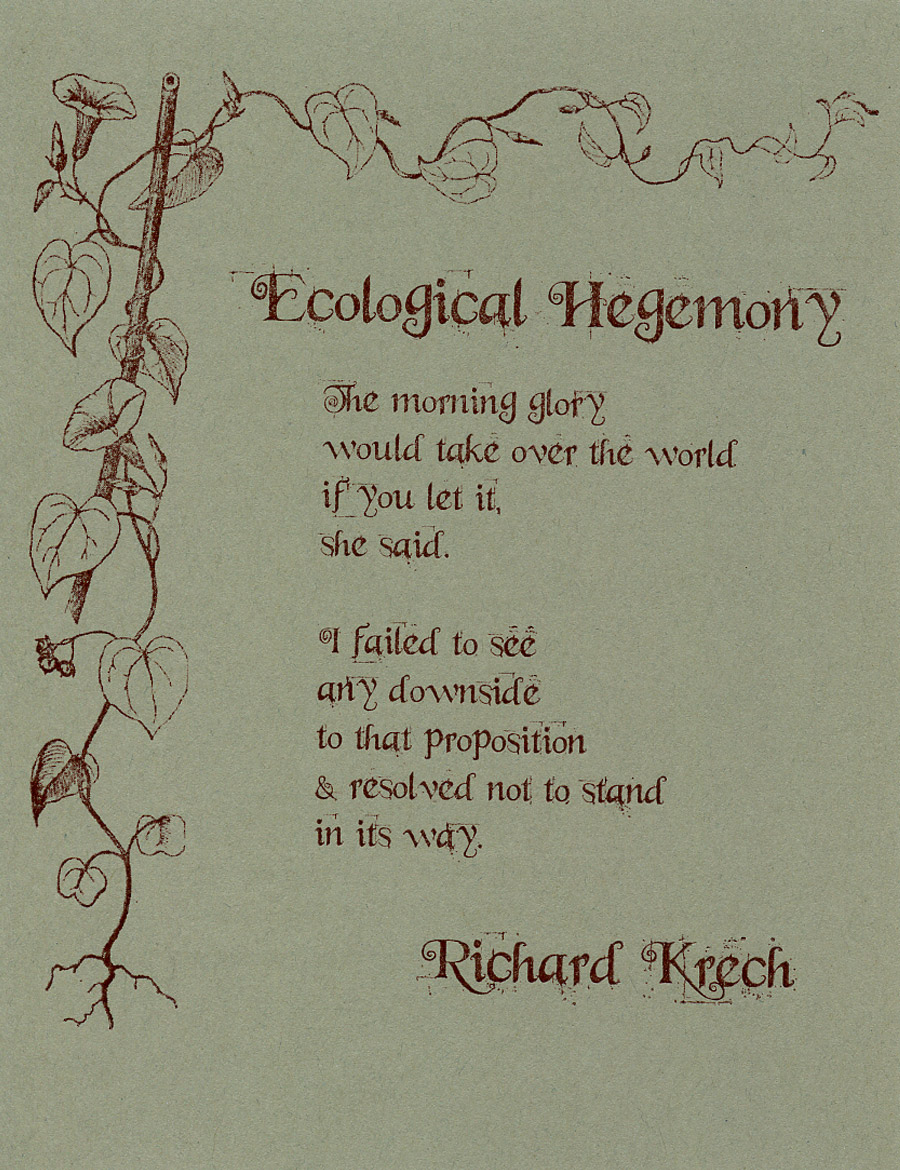 GPP19 - May 2007
14 copies have been found
.
Bibliography
In Chambers: The Bodhisattva of the Public Defender's Office
sunnyoutside - 2008
Some Global Positioning Dharma
Red Barn Press - 2007
Rumors Of Electricity
sunnyoutside - 2006
Second Opinion
Bottle of Smoke Press - 2006
Poems for Mary's Garden
Dpress - 2005
The Devout Man's Late Night Prayer
Low & Outside - 2005
The Location of the Triple Jewel
Dpress - 2003
The1932 3Af Claret
Dpress - 2002
The Incompleat Works of Richard Krech; poems 1966 - 1974
Litmus - 1976
Poems from the Free World
privately printed - 1972
Poems from the Interrupted Journal
Gunrunner Press - 1969
Mythology for the People's Liberation
Undermine Press - 1969
The Hashish Scarab
Runcible Spoon - 1968
We Are On The Verge of Ecstacy
7 flowers press - 1967
How Easily Your Mind Can Slip Off
Runcible Spoon - 1967
Links
Lawyers and Poetry/Richard Krech
More Poems
Richard Krech Complete Bibliography